Description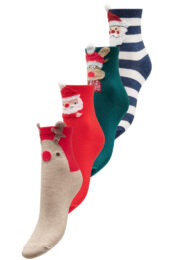 Details: christmas gift ideas
Only Carmakoma Christmas Socks in a gift box
60% Cotton, 35% Polyester, 5% Elastane
4 different versions, in the photo you can see them all in a row
They are ONE SIZE socks and they are packaged in a festive box
Shop more Christmas items (click here)
Style no: 15273811
Further information:
The festive character Christmas socks nestled within a charming gift box are a delightful embodiment of holiday cheer and whimsy. From the moment the box is opened, it's evident that these socks are more than just a wardrobe accessory—they are a celebration of the season, a wearable expression of merriment.
Crafted with care and attention to detail, these socks feature an array of festive characters that dance across the fabric, creating an enchanting tableau of holiday joy. Santas & reindeers come to life in vibrant colors, each contributing to the overall festive tapestry. The design evokes a sense of nostalgia, capturing the heartwarming essence of classic holiday motifs.
The socks, snugly nestled in the gift box, are not merely an article of clothing but a wearable narrative of Christmas spirit. The characters on the socks are not just stitched; they tell a story of the season, invoking memories of cherished traditions and creating a sense of connection with the festivities.
The socks, made from cozy and breathable materials, promise comfort and warmth during the chilly holiday season. The festive characters not only bring joy to the wearer but also spread smiles to those who catch a glimpse of these cheerful accessories.
Whether given as a thoughtful present or purchased to elevate one's own holiday wardrobe, the festive character Christmas socks in a gift box are a tangible expression of the magic and warmth that define the Christmas season. They are a reminder that even the smallest details can contribute to the enchantment of this special time of year.
Check out our daily videos on facebook.