Description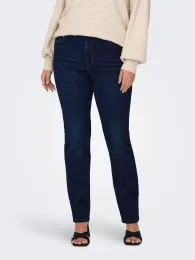 Details: jeans for women
Only Carmakoma Caraugusta Straight Leg Jeans
Straight fit jeans
High waist
Dark blue denim Curvy straight fit jeans that are figure-defining in the thighs and have a comfortable straight leg down to the leg opening
69% Cotton, 29% Recycled Polyester, 2% Elastane
Shop jumpers (click here)
Product number: 15300925
Further information:
High waist straight leg dark denim jeans are a timeless and versatile wardrobe staple that effortlessly combines style and comfort. These jeans are designed to sit comfortably above the natural waist, providing a flattering and elongating effect to the silhouette. The high waist not only adds a touch of vintage flair but also offers practical benefits by providing extra coverage and support.
The straight leg cut of these jeans is both classic and on-trend, offering a sleek and streamlined look that complements a variety of body types. The straight silhouette from the hip to the hem creates a clean and modern aesthetic, making these jeans suitable for various occasions, from casual outings to more polished ensembles.
The dark denim wash adds a touch of sophistication and refinement to the jeans. The deep indigo hue not only gives off a polished appearance but also has a slimming effect, making these jeans a go-to choice for a flattering and put-together look. The dark color also makes them versatile, allowing for easy pairing with a range of tops, shoes, and accessories.
Crafted from high-quality denim, these jeans offer durability and comfort. The fabric provides a balance between structure and flexibility, allowing for ease of movement while maintaining its shape over time. The high waist design ensures a secure fit without compromising on comfort, making these jeans a reliable choice for all-day wear.
Whether dressed up with a blouse and heels for a night out or paired with a casual tee and sneakers for a relaxed weekend look, high waist straight leg dark denim jeans are a wardrobe essential that transcends fashion trends. Their timeless appeal and flattering silhouette make them a versatile piece that seamlessly transitions from season to season, making them a must-have for any fashion-conscious individual.
Check out our daily videos on facebook.