Description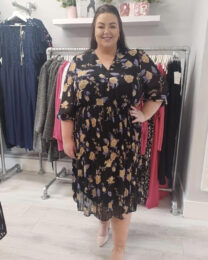 Details: only carmakoma
Only Carmakoma Black Floral Dress
half button down
tie waist
slight pleated detail on the skirt
calf length
3/4 length sleeves
100% polyester
floral print
Style No: 15302029
Further Information:
This black floral dress with a tie waist is an enchanting fusion of femininity and sophistication, seamlessly blending a timeless silhouette with a touch of modern elegance. This dress effortlessly combines the classic charm of floral design with a contemporary tie waist design, creating a versatile piece that exudes grace and style.
The backdrop of black serves as the canvas for the delicate floral pattern that adorns the dress.
The tie waist detail not only enhances the dress but also offers a flattering and customizable fit. The waist tie cinches the fabric gently, accentuating the wearer's natural curves while allowing for a tailored silhouette. This element adds a touch of playfulness to the dress, offering the wearer the freedom to adjust the fit according to their preference.
The dress's silhouette is a timeless embodiment of femininity. The flowing skirt grazes the knees, evoking a sense of movement and grace with every step. The neckline complements a variety of body types, offering a tasteful glimpse of skin while remaining modest.
This dress holds incredible versatility. It effortlessly transitions from day to evening, adapting to different settings with ease. Paired with sandals or wedges, it's an ideal choice for daytime outings, while heels and delicate jewelry transform it into a captivating ensemble for more formal occasions.
In summary, the dress with a tie waist is a captivating with both classic and contemporary style. Its delicate florals and the functional tie waist detail create a harmonious garment that embodies femininity, grace, and modern elegance. Whether donned for a casual day out or a special event, this dress is an embodiment of understated glamour.