Description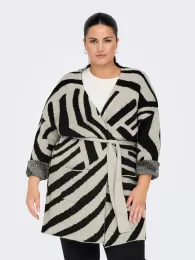 Details: cardigan
Only Carmakoma Belted Cardigan
Knitted cardigan
V-Neck
Long sleeves
Belt in waist
Curve
Shop more cardigans (click here)
53% Recycled Polyester, 25% Acrylic, 19% Polyester, 3% Elastane
Style no: 15303749
A long, chunky cardigan is the epitome of comfort and style, combining warmth, texture, and versatility in one cozy garment. This fashion staple has become a beloved choice for those seeking both a relaxed, chic look and the perfect layering piece.
The defining characteristic of this cardigan is its length. It typically extends below the hips, sometimes even reaching the knees or mid-calf, creating a flowing and flattering silhouette. The elongated design not only offers excellent coverage but also lends a sense of drama and sophistication to any outfit.
Chunky cardigans are known for their substantial and textured knits. They feature thicker yarns and intricate stitch patterns that create a rich, tactile fabric. This chunky knit adds visual depth and interest, making the cardigan a standout piece in your wardrobe. It also provides exceptional warmth, making it ideal for chilly days and cozy evenings.
What sets an open-front cardigan apart is its lack of buttons or closures on the front. Instead, it features a relaxed, open drape that can be worn casually or belted at the waist for a more defined look. The absence of closures allows for effortless layering and easy on-and-off wear. It's a versatile choice that can be styled in various ways to suit your mood and the occasion.
Long chunky open-front cardigans often include oversized pockets, both for functionality and aesthetics. These pockets offer a convenient place to keep your hands warm or store small essentials, adding an extra layer of practicality to this fashion-forward piece.
Color and material options for this cardigan are diverse. Earthy, neutral tones like beige, oatmeal, and charcoal are popular choices for a timeless, cozy look, while bolder hues such as deep burgundy or forest green can make a statement. The choice of material may vary, with many cardigans made from wool or wool-blend yarns, providing exceptional warmth and softness.
Check out our daily videos on Facebook (click here)