Description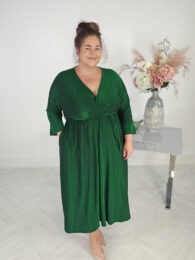 Details: plus size clothing
Green Glitter Shelly Dress
free size magic dress 18-26
wrap effect
bell sleeves
midi length
tie belt
pockets
95% polyester 5% Elastane
Shop shape wear (click here)
Style no: shelly4
Further information:
The enchanting allure of the green glitter wrap-effect dress is a captivating blend of sophistication and glamour. Crafted from a luxurious emerald green fabric that shimmers like crushed gems under the light, this dress is designed to make a statement at any event. The wrap-effect silhouette adds a touch of timeless elegance, creating a flattering V-neckline that accentuates the collarbones and flatters the figure.
A tasteful tie belt cinches the waist, allowing the wearer to customize the fit and highlight their curves with grace. The belt, in a matching green hue, adds a subtle yet striking detail that brings the ensemble together. It not only enhances the hourglass shape but also adds a touch of playfulness to the overall aesthetic.
Adding to the practicality and modernity of the design, this dress features discreetly placed pockets on each side. These pockets seamlessly blend into the design, providing a functional element without compromising the dress's overall aesthetic. Perfect for those who appreciate both style and convenience, the pockets are a thoughtful addition that enhances the dress's versatility.
The green glitter fabric catches the light at every angle, creating a mesmerizing effect that ensures all eyes are on the wearer. The dress is a celebration of femininity, combining a classic wrap silhouette with contemporary details, resulting in a timeless piece that transcends trends. Whether it's a special evening event, a cocktail party, or a festive celebration, this green glitter wrap-effect dress is a symbol of confidence, glamour, and a touch of magic.
Magic dresses are a free size.
Check out our daily videos on facebook for style tips, sizing guides and new arrivals.