Description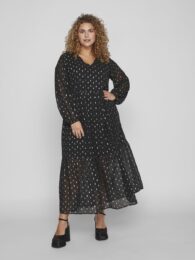 Details: black maxi dress
Evoked Vila Maxi Dress
Long sleeve maxi dress
Tiered design
V-neck
All over silver dots
Sheer sleeves
Lined
Regular fit
Shop more dresses (click here)
Outer: 100% Polyester; Lining: 100% Polyester
Style No: 14090516
Further information:
A ladies maxi dress is a stylish and versatile garment that exudes grace and elegance. This floor-length dress is a popular choice among women for its comfort, flattering silhouette, and adaptability to various occasions.
The key feature of a maxi dress is its length, typically extending all the way down to the ankles or even touching the floor. This length not only provides a sense of sophistication but also offers excellent coverage while maintaining a sense of airiness and freedom. It allows the wearer to move gracefully and comfortably, making it ideal for both casual and formal events.
One of the standout characteristics of a maxi dress is its diverse range of designs and styles. These dresses come in an array of patterns, colors, and fabrics to suit different tastes and preferences. Whether it's a floral print for a bohemian look, a solid color for a minimalist approach, or a bold geometric pattern for a statement piece, there's a maxi dress for every occasion and mood.
Maxi dresses are renowned for their versatility. They can be dressed up or down effortlessly, depending on the accessories and footwear chosen. For a casual daytime look, pair a maxi dress with sandals. To transform it into an elegant evening ensemble, add heels and statement jewelry.
Maxi dresses are often crafted from lightweight and breathable materials such as cotton, chiffon, jersey, or silk, which make them ideal for warm weather. However, there are also options in heavier fabrics like velvet or knit for cooler seasons, ensuring year-round wear.
Its length & design, range of styles, and adaptability to various occasions make it a go-to choice for women seeking comfort, sophistication, and style.
Check out our daily facebook videos for style tips and new arrivals. (click here)