Description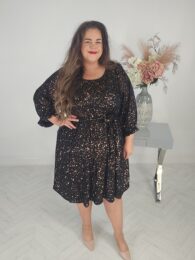 Details: plus size dresses
Evoked Black Sequin Short Dress
3/4-sleeve sequin party dress
Knee-length
Tie waist with removable belt
Scoop neck
Elastic sleeve endings
Lined
Regular fit
Outer: 97% Polyester, 3% Elastane; Lining: 100% Polyester
Shop shape wear (click here)
Style no: 14090586
Further information:
The short black sequin dress with a tie belt embodies an alluring blend of sophistication and glamour. Crafted from a lustrous fabric adorned with meticulously arranged sequins, this exquisite garment effortlessly captures the essence of timeless elegance. The dress features a classic A-line silhouette, enhancing the wearer's figure with a subtly flared skirt that gracefully skims the thighs. The delicate sheen of the sequins delicately catches the light, creating an enchanting display of shimmer and sparkle with every movement.
The neckline of the dress is modest yet alluring, drawing attention to the collarbones without revealing too much. The sleeveless design accentuates the shoulders, adding a touch of allure while allowing for easy movement and comfort. A slender tie belt, crafted from the same luxurious fabric as the dress, cinches the waist, creating a flattering hourglass silhouette and adding a playful touch of femininity.
The hemline falls just above the knees, exuding a flirtatious charm that is both sophisticated and playful. The refined simplicity of the design is enhanced by the meticulous attention to detail, showcasing the artistry and craftsmanship behind its creation. The seamless integration of the tie belt adds a contemporary twist, allowing for a customized fit that accentuates the wearer's curves and highlights the natural beauty of the female form.
This enchanting black sequin dress is a versatile ensemble that can effortlessly transition from a glamorous evening event to a chic cocktail party. Its timeless appeal and understated elegance make it a must-have addition to any fashion-forward wardrobe, promising to captivate attention and leave a lasting impression with its understated yet captivating allure.
Check out our daily videos on facebook.