Description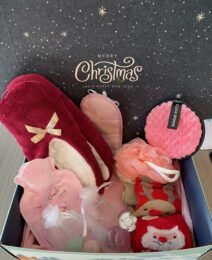 Details: christmas gift ideas
Christmas Pamper Box
Pamper boxes may vary depending on stock
slippers
2 pairs of festive novelty socks (colours may vary)
mini bath bombs
candles
eye mask
shower sponge
reusable face cloth
mini hot water bottle (not suitable for children, warm water only)
shop Christmas items (click here)
Style no: christmas1
Further information:
The Christmas pamper box is a delightful and thoughtfully curated collection that embodies the spirit of the holiday season, offering a perfect blend of relaxation and festive cheer. From the moment it is unwrapped, the box exudes warmth and indulgence, inviting the recipient to immerse themselves in a world of comfort and self-care.
Nestled within the festive packaging, the pamper box reveals a selection of carefully chosen items designed to pamper the senses.
The box includes bath bombs and beautiful tea light candles. These items promise to transform an ordinary bath into a soothing and aromatic retreat, allowing the recipient to unwind and relax amid the hustle and bustle of the holiday season. Our soft shower/bath sponge will add that extra sudsy feel and can be used along with the reusable face cloth to wash away the worries of the day.
To enhance the pampering experience, the Christmas pamper box also features a soft silky eye mask. This cozy accessory encourages moments of rest and relaxation, shielding the eyes from the world's demands and inviting a moment of peace.  For some extra added coziness we have added some comfy soft slippers and festive novelty socks for that added warmth and still staying in the festive spirit.
In essence, the Christmas pamper box is a carefully orchestrated symphony of sensory delights and treats, providing the perfect opportunity to unwind and rejuvenate during the holiday festivities. It is a thoughtful and festive gift that encapsulates the spirit of giving and self-care, making it an ideal present for spreading joy and relaxation during the most wonderful time of the year.
Check out our daily videos on facebook.