Description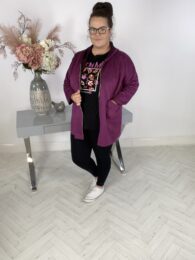 Details: plus size clothing
Berry Suede Jacket
long sleeves
hooded jacket
suede soft feel
gold zip detail
2 pockets on either side
Shop coats (click here)
100% polyester
Further information:
The berry-colored suede zip jacket is a stunning fashion piece that effortlessly combines sophistication with a contemporary edge. Crafted from luxuriously soft suede, this jacket boasts a luscious shade of deep, rich berry that evokes a sense of opulence and warmth, making it a captivating addition to any wardrobe.
The exquisite craftsmanship of this jacket is immediately evident, with its meticulously tailored silhouette that exudes elegance and refinement. The sleek, minimalist design is accentuated by a high-quality, smooth-operating zipper, adding a touch of modernity to the classic style. The supple texture of the suede envelops the wearer in a sense of comfort and luxury, ensuring both style and comfort are seamlessly integrated.
The jacket's rich berry hue adds a pop of color to any ensemble, effortlessly elevating a casual outfit or complementing a more formal look. Whether paired with a crisp white shirt for a sophisticated daytime ensemble or layered over a chic cocktail dress for a night out, this versatile piece is designed to make a statement while exuding a sense of effortless grace.
Its versatility extends to various occasions, effortlessly transitioning from day to night, from casual to formal, making it a key wardrobe staple for those who appreciate the fusion of timeless style and modern sensibility. The jacket's rich color and luxurious material make it an ideal choice for cooler seasons, providing both warmth and style during brisk autumn evenings and chilly winter days.
Overall, the berry-colored suede zip jacket is a sophisticated, versatile, and luxurious fashion piece that seamlessly blends classic elegance with contemporary flair. With its impeccable craftsmanship, rich color, and timeless design, it is destined to become a cherished and enduring staple in any discerning fashion enthusiast's collection.
Check out or daily videos on facebook (click here)